2016 Wild Hare Studio presents
Wild Hare Studio, situated on acreage that was once a rabbit farm in the 1940's, was a truly unique creative art environment. It was located behind the gates of Patrick Amiot's art studio complex, with the giant yellow duck out front, just south of Sebastopol. Wild Hare Studio has since closed that location.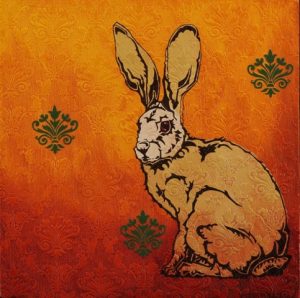 Rabbits, rabbits, everywhere! Spring has sprung and we're celebrating the ultimate symbol of vitality and prosperity for this time of year- the hare.
Yvette Buigues: "The hare has a rich history in folklore around the world. There are stories that tell of it's courage and fear, its relationship to and use by the moon as a messenger to earth; the hare is associated with the Sun, fertility, the dawn, and even seen as a trickster…"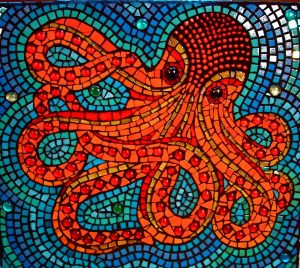 Who doesn't love finding hidden treasure?This weekend is the grand finale to Lauri Luck's The Big Art Treasure Hunt. We have plenty more! We'll be open Saturday too.
Jane Kelly makes uplifting whimsy for your home & garden. With a vast array of color and materials, as in tile, pottery shards, glass, and found objects, along with surface shape, and subject matter, it's a visual and tactile wonderland.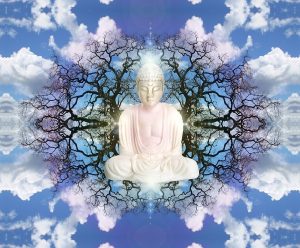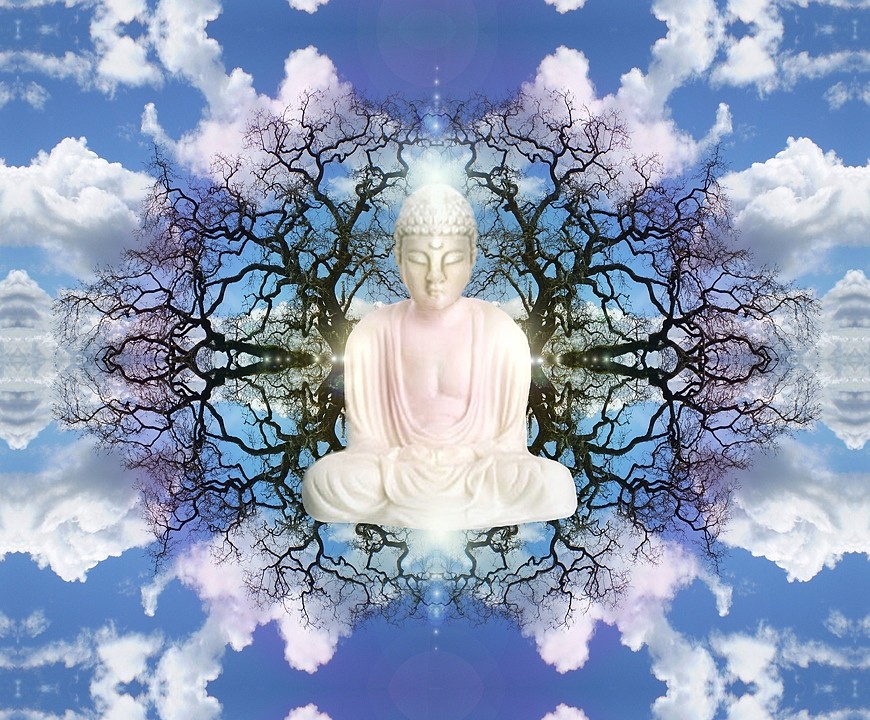 Nansee Greenwitch creates visionary art that embodies the multidimensional, fractal magic of Nature, where everything is alive and communicating with us. These digitally enhanced photographs are hand-decorated, and the symmetry symbolizes a perfected existence and a higher level of beauty and harmony.
Mardi Storm captures the essence of the spirit world and animal nature with winged animals, underwater creatures, and mythical beast sculptures.
Many perfect treasures for your home – indoors or outdoors, many affordable gifts too. Come by!
May 14 & 15: The Sound of Color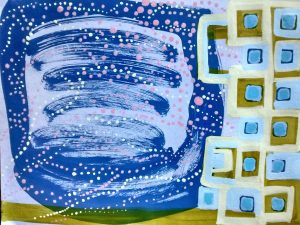 Nina Canal, well known guitarist from the avant-garde band Ut, presents her paintings that capture the flow of energy.  Ut was part of the post-punk No Wave music scene from 1970's New York City that exploded post Velvet Underground. After a long music career with Rhys Chatham and Ut, touring the world with the Fall and Birthday Party, Nina moved to Paris to pursue art fashion. She continues to surprise us with effortlessly channeling her creative energy in new directions…
November 12 & 13: Animorphosis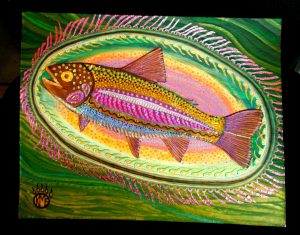 Kimberley McCartney uses recycled materials such as found ribbon, wrapping paper, foil wrap and more in her "paintings".