Animorphosis
Wild Hare "Pops Up" at Pie Eyed with
Animorphosis
November 12 & 13
Featuring Guest Artist Kimberly McCartney, Mardi Storm & Lauri Luck
And more! Silent auction & fabulous homemade pies for sale as a "send Mardi back to grad school" fundraiser on the back patio! 
Kimberly McCartney
Kimberly's romance with light materialized when she was 18 years old while learning to work with stained glass. She loved the way something solid could become so luminous. Later, while living in France, she became a cloud chaser, rushing down to her car and taking off to the nearest vantage points to photograph clouds in just the right light.

In mixed media, certain materials encapsulate light so much more than paint does. These allow her to express deep joy in the force of life, in the resonance of luminosity. She learned her form of mixed media in France, where it's called "récup'art," the inclusion of materials which have been discarded. She says there is true pleasure to be felt when something discarded becomes a vehicle for light.

While working she experiences a state she first discovered through voice improvisation and later, simultaneous translating – the state of receiving and producing at the same time, a direct knowing which circumvents the intellect and excites the heart and soul. For her, creating is a spiritual act, its product an invitation to communion. She works to transmit a state of resonance, feeling resonance radiates from one person to another in whatever form suits each of us best as individuals – it seeds us with creativity. And the more we resonate, the more the world will thrive.

Kimberly McCartney is a prodigal child of Santa Rosa, having left decades ago to travel and live overseas. While in southern France she was surrounded by resolutely creative people, living in a countryside environment known for its 'savoir vivre,' and teaching language and culture in two aeronautical engineering schools in the city of Toulouse.  She was actively involved in many cultural endeavors, including improvisational voice workshops for six years, art courses and the organization of an international intercultural film festival.


Having returned to our region, she is happy to be reunited with the land that nourished her heart and soul while young.
Mardi Storm of Wild Hare Studio
On SoulCentric Paintings:
"I open the door and let the Mystery flow through. Unmeditated, images from the deep well of dream source pour out under my paint brush – I can hardly keep up! Its a dance of what wants to be expressed with authentic feeling. I do not engage my thinking, it would dishonor the energy and control too much what will come, I must trust. No meaning is investigated until after completion, allowing unconscious material to surface in a pure state. Each shamanic painting journey uncovers more of my soul and brings more into conscious awareness, tapping the transpersonal realms."



Mardi works in other media. Known best for her large oversized sculptures, she will bringing in smaller ones that will be easier to take home, perfect for holiday gift giving!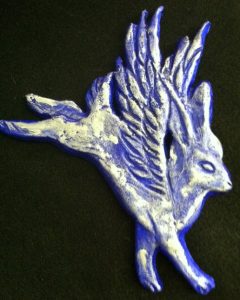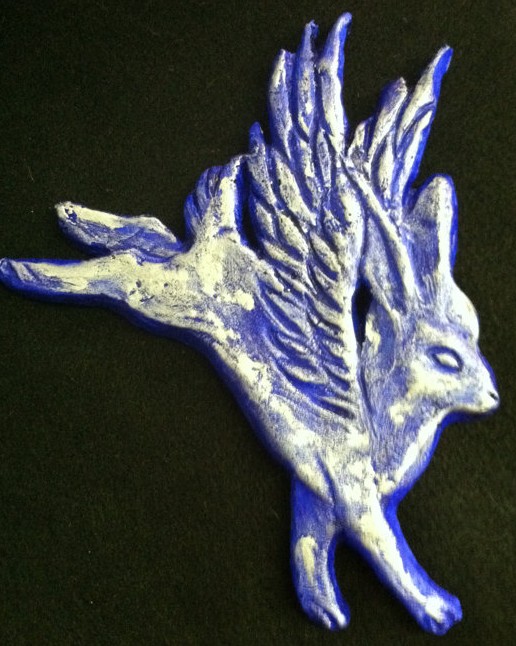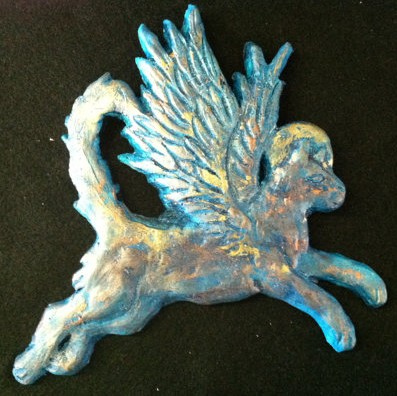 She also turns images from her SoulCentric Paintings into T-shirts!
"From my subconscious to yours!"

Mardi previously had a studio at the Yellow Duck, but has since moved back home to her farm in Occidental. She's currently looking for a new home and studio in Sonoma County. She also has a healing practice on Main Street in Sebastopol, offering SoulCentric Breathwork, Painting, and Massage. She teaches regular classes and workshops at Sebastopol Center for the Arts. Her art has been published and is on permanent public display.
Lauri Luck of Pie Eyed
Known for years for the fabulous Pie Eyed Art shows happening once a month at the Yellow Duck, Lauri will be showing her latest gorgeous paintings of dogs and other animals, along with a select few sculptures.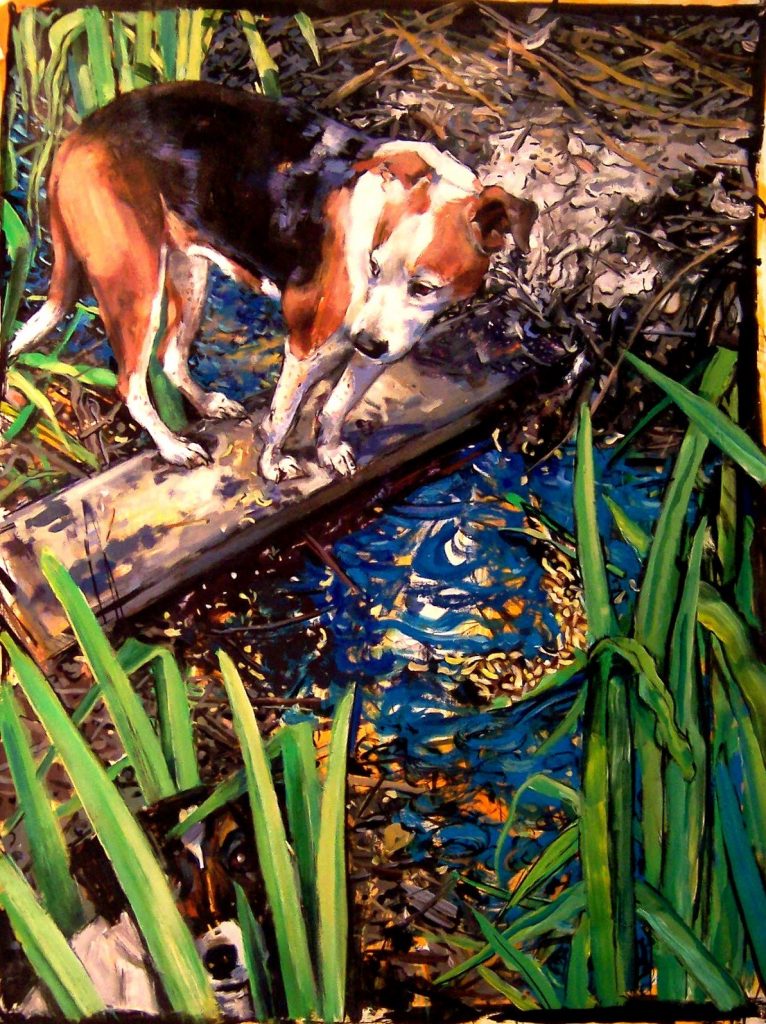 This is the second to last show of the season! Pie Eyed will return in 2018.
As if that wasn't enough…
Lauri Luck will be serving up her famous homemade pies in Southern style! Coffee, pie, a comfy sofa, and delightful conversation.
 AND….
….she'll be selling her absolutely delicious pies as part of the Send Mardi back to grad school Fundraiser! Don't miss this very rare opportunity to not only eat your pie, but take it home too!!
Flavors to choose from are: Lemon Chess, Bumbleberry, Old Fashioned Apple, and Cranberry Pear. $20 apiece in the spirit of the fundraiser.
And what about  this Fundraiser?
Due to the generosity of Mardi's friends there will be a special fundraiser at this show! Mardi has decided to further her education and deepen what she can offer others in the community by pursuing a PhD in Psychology, with an emphasis on Creative Expression. Her passion is for creativity and healing, two things that go together surprisingly well. When Lauri heard the price tag of $16,000 a year was the stumbling block to signing up, she offered to throw this fundraiser! The goal is to raise $6,000 towards the first year entry fees!
To bid long distance and have the item mailed to you or pick up later, please visit the

Facebook Event page.

We will check this page during the event and update the live silent auction in both places! 
So far, the auction list includes:

Auction Item #1:

Original painting  "Don't Be Afraid To Look Into Dark Places" by Lorenzo "Sand" Dughi, who was a guest in last November's show. Value $120. Starting bid: $60
Auction item #2:  Kiah Bosy of Chi Home Designs has donated a one hour session to Feng Shui your home or sanctuary, in person or remotely. Co-creatively choreograph your environments for a tranquil heart,  vibrant health,  loving relations and  prosperity. Value $175. Starting bid: $80

Auction item #3:

My favorite astrologer Pollyanna Costa has donated an hour of weaving dreams, Astrology, and Tarot to guide and support! $100 value. Bid starts at $50.


Auction item #4: "Spirit Night" by Nansee Greenwitch whom was a guest artist at the Hidden Treasures show last April. Canvas print, hand decorated fractal art. 10″ x 22″. Value $120. Bid starts at $60.

Auction item #5:

Mardi Storm SoulCentric Painting classes at Sebastopol Center for the Arts, Package of 4, value $140. Bid starts at $70.

Auction item #6:

A day pass to Morton's Warm Springs in Glen Ellen, CA.  Value $36. Starting bid $18.

Auction item #7:

"Buddha's Rain" by Nansee Greenwitch.  Framed 8″ x 10″ print, hand decorated. Value $40. Starting bid: $20
Please join the Facebook event page to participate in the live silent auction – we will be checking posts over Sat & Sun and updating the auction sheets with your bids!
All At the Yellow Duck landmark on Hwy 116!
Pie Eyed Studio
2371 South Gravenstein Highway, Sebastopol, CA 95472
Saturday & Sunday, November 12 & 13, 12-4pm
Come on by!!