Large Scale Sculpture merges life with art
One thing I derive great satisfaction in is life-sized, or should I say, over-sized, art. A creature that you have to reckon with. Even more impactful in bright colors. Here are a few of my very large sculptures.
This unicorn emerged before the surge in popularity of the mythic unicorn over the past decade, I may even be so bold as to say that with an audience of 60,000 at the event where it debuted, of freaky creative hippies and artists, that it contributed to starting the unicorn craze all over again. Afterall, many of us grew up in the 70's and it was mind blowing to many at the time (I heard it for 10 hours straight while mudding, from countless passerby) that anyone in their right mind would make a 10 foot high unicorn, period. Even for Burning Man it was nutty: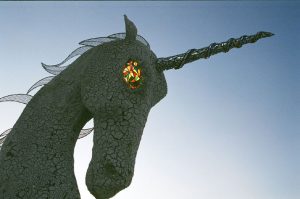 An older but no less treasured piece is the giant seahorse:
SOLD
Inspired by my underwater creatures, I took a couple commissions for hospitals, creating fantastic creatures for their lobbies. One is a large sea turtle, named for the Hawaiian goddess who protects children and disguises herself as a turtle, and the other a pod of dolphins:
COMMISSION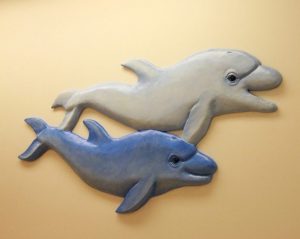 COMMISSION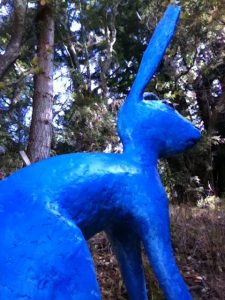 SOLD
One of my original horse sculptures was the Pegasus, which is either flying out of the ground or sinking into it, depending who you are talking to, their mood, state of mind, and whether they tend to see the glass is half full or half empty: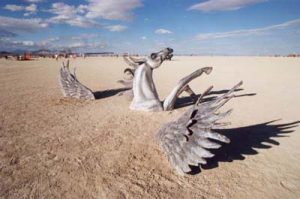 SOLD
Not to leave out my first life sized horse piece, a head that hangs on the wall. With its title is a spin on the old fairytale of the princess who is duped by her handmaiden, and whose talking horse gets its head cut off. He remains her only trusted friend even in his death:
SOLD
I hope you enjoyed this little tour.  There's more on the way, I am working on a large rabbit as we speak, with plans drawn on a few other large pieces. I do accept commissions and make sculptures for outdoor use as well as indoor.